You Have Been Set Free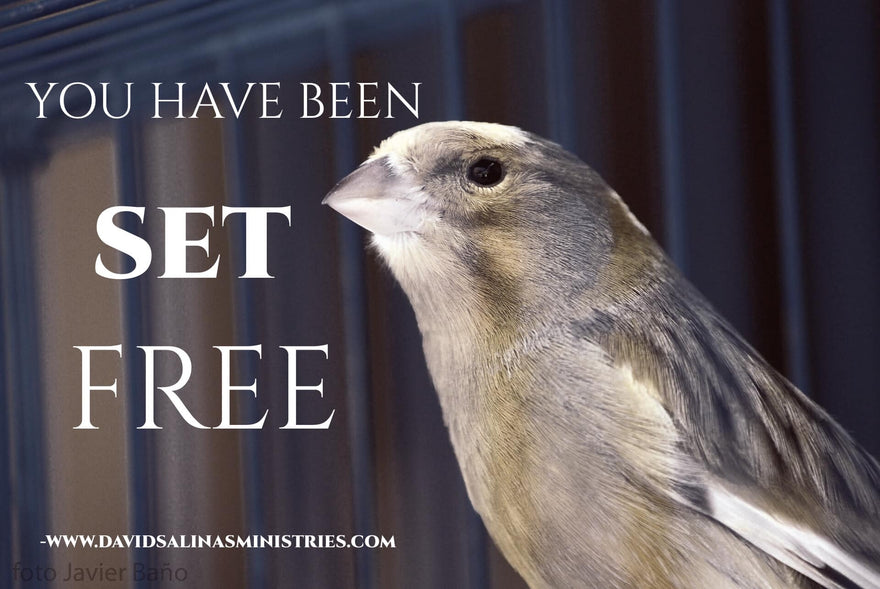 (2 min read).
When I was a teenager, my younger brother, Rob, found this little sparrow in the grass one spring morning, while cleaning up the backyard.
We had a thunderstorm the night before and this young fledgling sparrow must have been knocked out of the nest, and if not for my brother, she probably would not have survived.
We searched the trees for a nest, but found none. So, of course, Rob brought her in and we did our best to raise her.
When she was fully mended and able to fly my Mom set her cage out on the table in our back-yard and opened the cage door.  We tearfully said good-bye to our dear little friend.  That evening just before sun-down I went out to collect the cage and found our little friend in the cage.  So, I brought her back in.
The next morning my Mom set the cage outside again and repeated the process (despite my argument that she wanted to stay with us). My mom did her best to encourage the little sparrow to leave the cage and explore her freedom, but to no avail.  She was meant to be free and it would be wrong to force her to live in a little cage when her heritage was to possess the wide blue yonder.
That evening when I got home late from school and work, it was already dark, but our little feathered friend was still in the cage. On the third morning my Mom repeated the steps and but again our little feathered friend was still in the cage, despite being set free for the 3rd time.
This little sparrow chose to stay with us, rather than be made free. So, we gave her a name, Tweety, and allowed her to live with us. 
We experienced several years of wonderful companionship with our little Tweety and she even alerted us to a fire a few years later. But if we had never put her outside and set her free then the choice would never have been hers to make.
Those of us who have accepted the free gift of redemption through the sacrifice of our Messiah have been set free, but have we chosen to walk out in that freedom? If you missed David's teaching on this topic, you can watch rebroadcast here or on the picture below.
Be blessed!
Denise Salinas
Leave a comment